May 22nd, 2007
---
08:03 pm - Meh.
Not satisfied by '24' season finale.

February 14th, 2007
---
12:24 am - The Jeddies: Year 4
Who would thunk 4 years ago that the Jeddies would still be sizzling hot 4 yrs later :P Just thinking about how life has been being a Jeddie, I sometimes wonder what life would been like without such a dynamic duo. Lets take a look: I probly wouldnt have dumped my ex (why ruin something youre merely complacent with?) and I definitely would have moved in with him at the co-ops junior yr...those plans were already being set around the time of the breakup. Had it not been my close association with JoJo, I definitely wouldnt have joined SMD...which means I wouldn't have met Uncle Bob and thus not done Berkeley Free Clinic. No BFC = continued ignorance about the existance of public health, so I probly wouldnt have done community health commission. All those activities were crucial in getting me into med school over and over again. Ain't that crazy....the Jeddies got as far as they did by sticking together...no more no less. That begs the question now, will we continue to create opportunities for each other by continuing sticking together? If the past 4 yrs is any indication, I'd say yes!

Back to this non-alternate universe: Jeddies are in limbo with regard to neuroscience. New classes have begun and we won't know how we did in that class until end of the week. The last 5 wks were among the most intense I've ever encountered...sooo much info and sooo little time! Jeddies celebrated this past 3 day weekend by just relaxing locally instead of our out-of-state excursions..too exhausted this time. We finally watched Borat which just made us cry from laughter. We also did Burlington mall, Costco, and IKEA. Massachusetts IKEA is 20x bigger than emeryville but we went on a monday afternoon so the aisles were sooooo empty and quiet...twas furniture heaven. Bought me a yummy tv for room...now Jeddies can watch movies from the comfort of yummy bed.

The Jeddies are thinking of doing NY again this weekend...can't decide yet. There are lots we still need to do...Central Park, MoCCA (museum of comic and cartoon art), Nintendo store, etc. Would have liked to go to Six Flags New England (yummy!) but the damn thing is closed for the season. Anyways...we'll see what happens.
Current Mood:
thoughtful
Current Music: 50 Cent - Hate It or Love It

January 1st, 2007
---
07:35 am
Happy new year pudge thing!

December 30th, 2006
---
10:12 pm
Hey Thing!

JoJo is in Taiwan home now... finally-- after staying at the epicenter of the earthquake here... scary. I have to say that my family really has guts. We decided to stay there even after the incident here. We even ended up on the news to show people that there's nothing to fear... everything is ok... The little place we stayed at was nice, it is surrounded by mountains all around with little lake surrounding the rooms. The rooms have little hot spring thing in each with volcanic sulfur water and everything! It is pretty stinky but it is supposed to be good for you. Anyway... gott go take a little family picture now... yes all 30 of us... wish me luck!

Be good.

-JoJo

December 26th, 2006
---
11:04 am - Pooodgeling
Hola Pudge...twas an alrite christmas here. Gots me a thick boston winter jacket that can cover up your mouth as well a la southpark kenny. Parents will be giving me $$ so that will be a yummy thing. Had turkey dinner...I figure since I had missed out on thanxgiving, they wanted to recreate the experience for me.

Rich uncle called me for like the first time ever. He never even knew I had gone to boston. "Soo you still looking for a school?" he asked. Haha....my mom commented on just how bad communication is between my dad and him. And then chided the both of them. I'll be going out with Wilma and co...don't worry EJ will be good!! TTYL!!!
Current Music: Lets go Pudgeball, lets go

December 24th, 2006
---
10:54 pm - Chinaaaaa
Hey Pudge,

I just got to China right now... been eating since I was on the plane... soo full :-/ Anyway, I'll be leaving for Macau tomorrow (going to stay at the mini version of the Winn there). Then I'll be back to Taiwan for a lil family trip to Kaoshung (central Taiwan) the day after that. I'll update again when I have the chance! Thinking of pudge, k?

Be good.

-JoJo

November 20th, 2006
---
07:32 pm
Hey Everyone!

Long time no post... Wonder why?! If you had read EJ's post, you know know why. Med school is comming along just fine, but again, it is more work than I eould ever expect it would. Is it possible that I have been studying more now than back in undergrad (with two majors)?

Anyway, to celebrate our success on the last exam, the Jeddies decided to take a little excursion to NYC (a mere 4 hour drive away)...

Like EJ said, we went over to Ninja ninjanewyork.com, a place that is part Disneyland, part restaurant. Their dishes were a little on the expensive side, but the presentation definately makes up for it. One of my favorite was the "Exploding Bombshell", a little conch shell which they blew up (yes, blew up.. with a little explosion and everything) in font of us, just like in the movies :)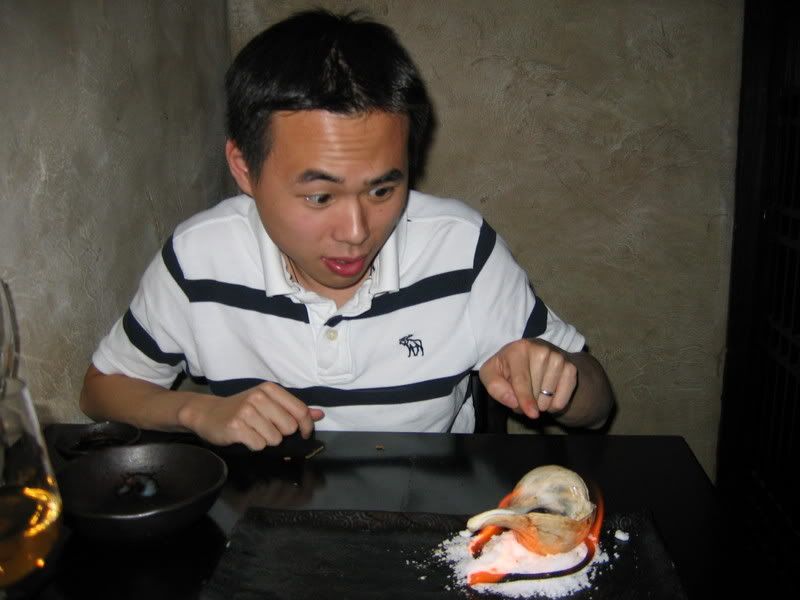 After dinner, we paid a little tribute to the 9/11 memorial site which is still in the works. Then we hopped on the subway to go visit the Empire State Building and Rockerfeller Plaza.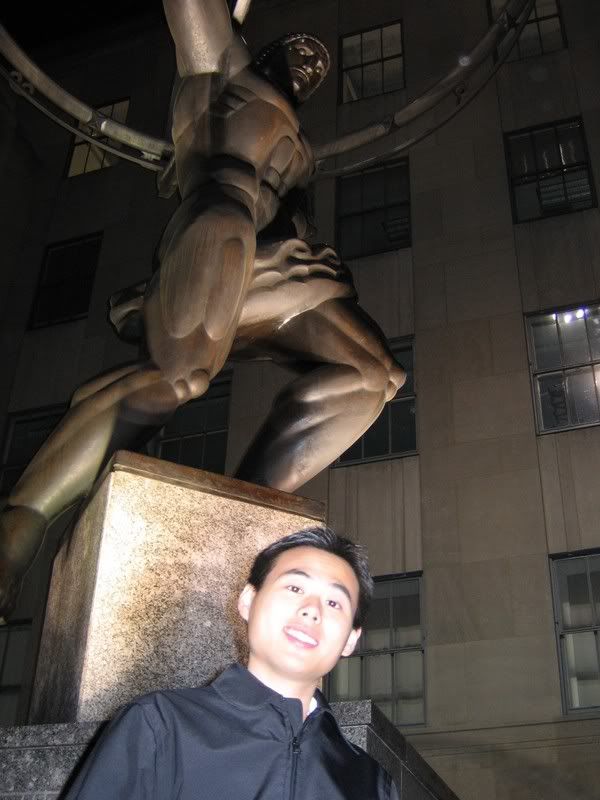 We ended the night in Time Square...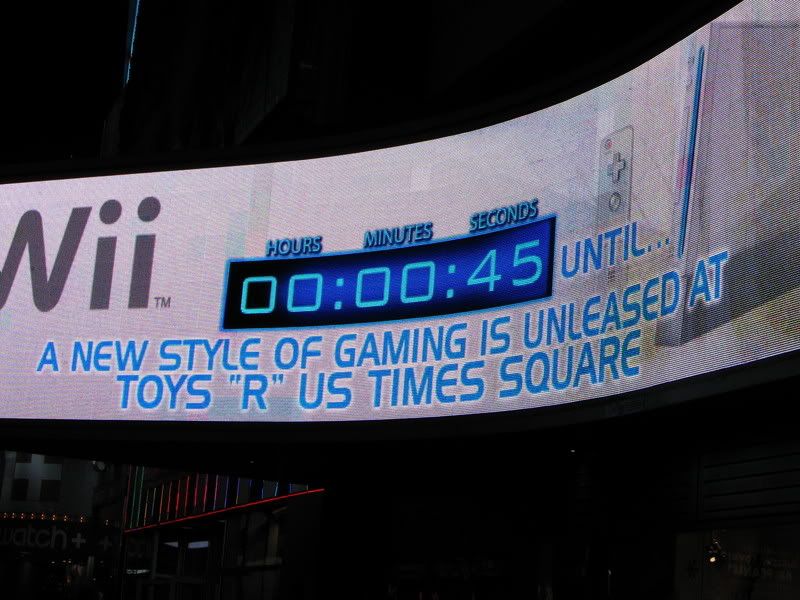 The next morning was Statue of Liberty and the Brooklin Bridge...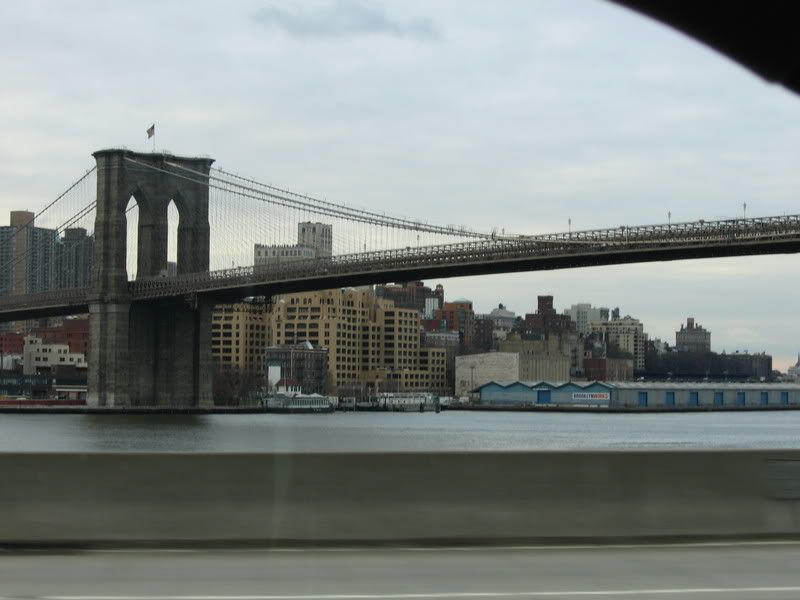 Finally... The Jeddies go to White Castle!




Until next time :)

06:06 pm - It's The Jeddies in Boston andNYC!!!!!
Wow, its been a billion yrs since we've updated..Where to start...
Boston is a great place overall. We live across the street and our landlord is JoJo's mama...craziness! I'd like to say I've adjusted to the total overwhelmingness of med school...yea, they expect the moon and the stars from us and I've given it to them...with interest too!! I like anatomy better than histology (anatomy via microscopes) but as always, I do better in the classes I don't like. I feel very accomplished and satisfied with my progress...hell, can you believe I am doing a lot better on med school exams than I ever did in Berkeley?! Could it be Berkeley is tougher than BU?! Nah, I just spend my whole like now studying, which is something I could not fathom in undergrad. The bad thing about here though is the damn cold weather. 45 degrees today....brrrr...Good things Jeddies got nice tans before getting here :P

Anyways....Jeddies finished second round of exams last Friday so we decided to treat ourselves to a weekend road trip. So the Jeddies did NYC!!!! I thought about contacting the only person I know who lives there (other than Brandon Beamer)....which is my ex John. But I figured the status quo of us just keeping our distance from each other was the best option....yea, I guess we're on ok terms now, but definitely not speaking terms. Not that I haven't tried to have us be buddies again...heck, we spent a yr of our lives together! But I just didn't wanna start potential shit or whatever....afterall, the last time he saw the Jeddies together he almost flipped out in public :-/

AnywaysI, after a modest 4 hr drive, we set up camp at a post Hampton Inn at the outskirts of town. On the way there, though we were just shocked at the sight of a dead deer tied to a car (oh the things liberalism has done to us). The picture says it all: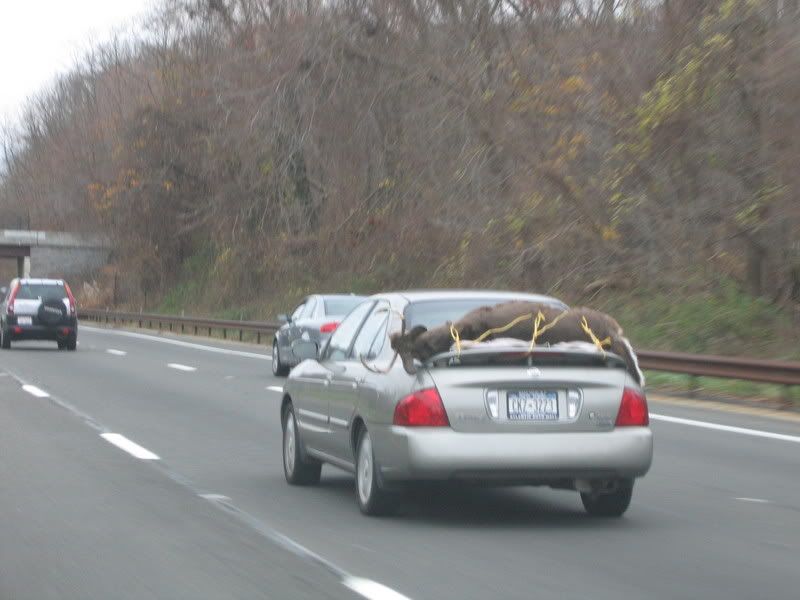 Anyways...we arrived at dinnertime to this restaurant called Ninja. Everything is all nighttime japan themed and the waiters were all dressed as ninjas. We even had a lil magician guy named Eddie who showed us a couple o tricks. They were also filming a cheap azn soap opera while we were there. I'd recommend that place to anyone who does not mind spending the $$$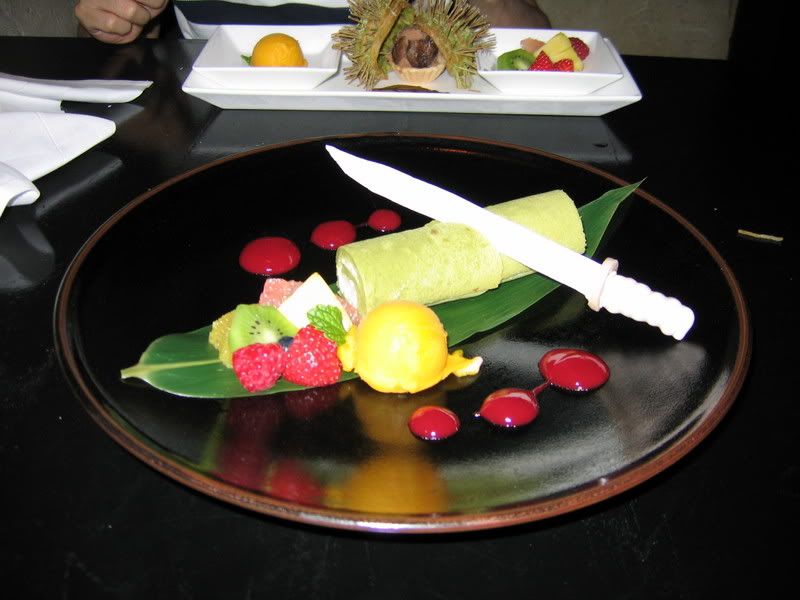 The Jeddies then did lots and lots of walking and subway taking. We soon ended up at the top of the Empire State Building (102nd floor) and lemme tell ya, the view is like buttah!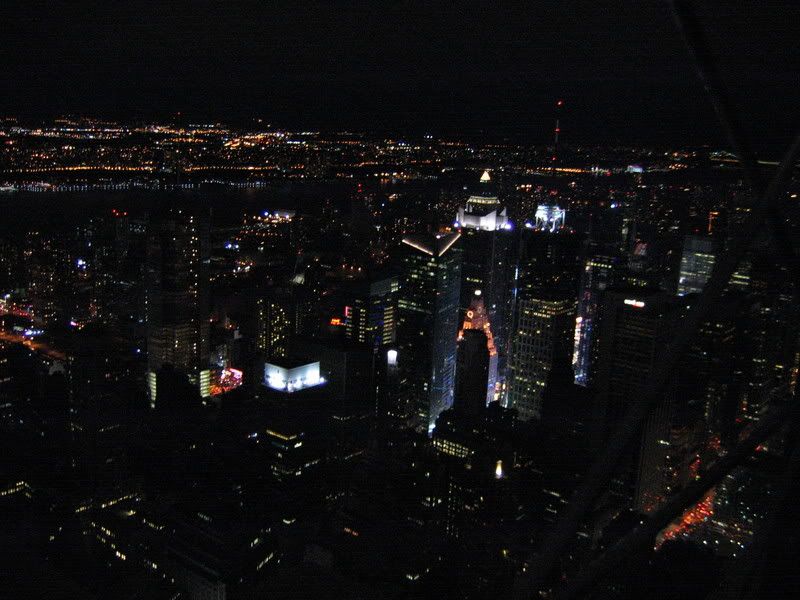 And then we went to Rockefeller Plaza and then on to Times Square. Now, it just so happened that Friday at midnite the new Nintendo Wii was being released and so there was quite a commotion at the Times Square Toys R Us. We decided to stick around for the countdown...its not new years, but I'm sure its the next best thing!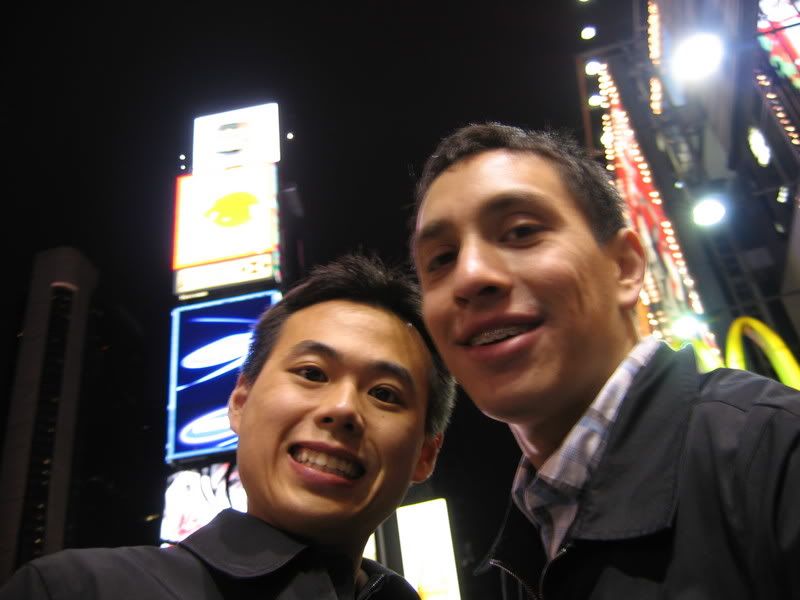 And then the next day the Jeddies did the most daring thing you could do in Manhattan: The Jeddies drove the wicked streets from one end to the other and then back. But it wasn't bad at all because it was on a Sunday at 8am, so we didn't die. Afterall, after doing downtown SF at rush hour, Joe was in some position to now tackle big apple at this wee hour. We headed to Battery Park at the southern tip to take the ferry to Statue of Liberty. Now that was an experience!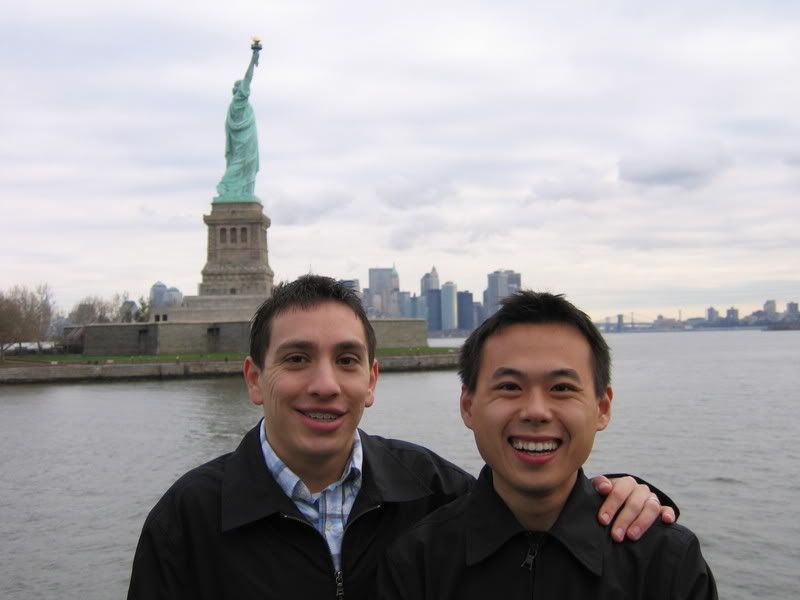 After getting back to shore, we headed back to Boston. But not before stopping at Yonkers for a quick bit to eat: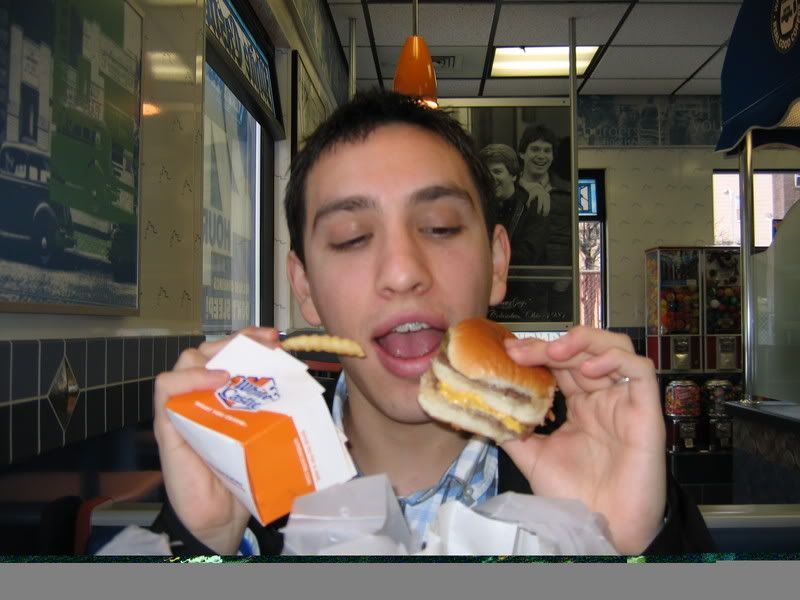 Oh that was some yummmmmmmmmmmmy shit!!
More later on JOJo's version of the experience!
Current Mood:
amused
Current Music: What a Feeling - Irene Cara

August 21st, 2006
---
09:06 am - Greetings from Hell...err..Oxnard
So once again JoJo is ironically the person furthest away from me that I know. Good job, pudge! I'm chilling here in this place known as my hometown...geez, this place sure has very little if any to offer in the form of entertainment and consumerism...why anyone would ever want to settle here is beyond me :-/

To sum up my pseudo-adventures here...my parents took me to this azn buffet they like going to, it was ok, but I know that JoJo would totally hate it...afterall, its no 5star bellagio buffet.

Then there was the lil kid's bday partay. I got to do the jolly jumper with a slide! Only thing is that I tumbled down the slide instead of just sliding down..that was the end of that. THey even had ddr on ps2 so I also got a good workout!

Its kinda sad though how all my oxnard friends have all just gone away. I suppose its for the best...who'd wanna stick around here?! Thaz it for now, told you this was a dull town...bye!
Current Mood:
indifferent

August 13th, 2006
---
03:56 pm
Hello everyone... I know it has been a long time since I last updated that's cus I've been pretty busy lately. First off, after much packing the Jeddies have moved out of our lil apartment in Emeryville and we will be moving into our new condo in Boston in a few weeks!! In the mean time I decided to go visit my father in China. My flight to Taiwan was nice, I pretty much slept the whole way and woke up three hours before landing. Right now I am in Taiwan airport's lounge waiting for my flight to Macau and then off to my father's place. I'll update soon!